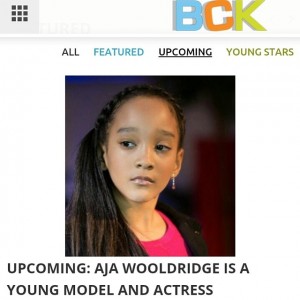 Happy to find Aja listed on Black Celeb Kids.  Below is a short snippet.
Aja Wooldridge is a busy young actress and model from Atlanta, GA.

Indeed this rising star is on the move. So far, Aja has participated in several fashion shows and film roles, and is currently taking part in three movie projects with many well known actors. Most recently, she completed a scene with celebrities Robin Givens and Darrin Dewitt Henson for the movie "A Christmas to Remember."  The film is slated to hit the theaters during the 2014 holiday season.
Read the rest of this wonderful article here.  Thank you so much Black Celeb Kids.