Aja had a fabulous experience at the Pretty Mogul Entrepreneurship Summer Camp. The goal of Pretty Mogul . Pretty Mogul's mission is to Empower, Enlighten and Educate young women by instilling positive values, building self esteem and creating a MOGUL mindset.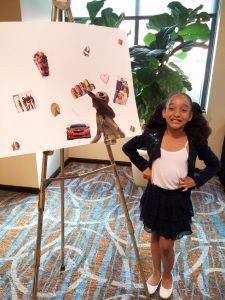 This was her first time at the camp and she didn't win but you can see she was still able to take control of the audience. Her speaking ability for an 8 year old was quite impressive. I know she had a made an impression with all the camp staff.
The following year Aja did a better Job and actually launched a real business called Field Trips with Aja. All credit goes to Sierra Lloyd from Pretty Mogul for helping create this success. She was able to provide the foundation to allow both Aja and us (parents) on what it takes to launch a business.
How cool was that intro video!. At this time Aja is 10 years old and her growth and maturity was quite evident. Really happy how the launch turned out at Sparkles of Gwinnett
We have several More since the Launch.
More coming soon, meanwhile check out the some more photos from the launch
[Best_Wordpress_Gallery id="16″ gal_title="Field trips with Aja Launch Party"]