Had an amazing time at the JWJ Foundation Fashion Show (#jwjfashionshow) last saturday June 20, 2015.  So many kids from all over the United States flew in and stayed at the Atlanta Marriott Marquis Hotel and participated in this wonderful event.  I had estimated about 300 people was in attendance.  This kids fashion show consisted of 12 designers, 3 musical guests, and two wonderful event hosts.
Aja got to model for Dopenerds, Decarlo Kidz,  and Rich Boys.  The musical guests were Dsquard Live, Lil Ryan, and Amaya Roxx.  Hosts were Jplus the Entertainer, Young Devyn, and the red carpet interviewer was Shayna Fields.  Musical DJ was provided by the popular one and only DJ Priest.
These kids did such a wonderful job and oh so looking forward to next years event.  Next year will be bigger and better for sure.  I wouldn't be surprised if people from all over the world comes. .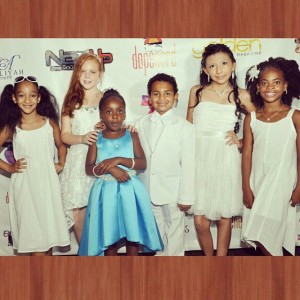 here is the Full Video of the Children Designer Rich Boys. Aja got to wear a Gold Ski Mask and you guess it a toy chainsaw. I have to give it up to Rich Boys Clothing for putting on a great show

Wait for it at the end.. You will see a big surprise