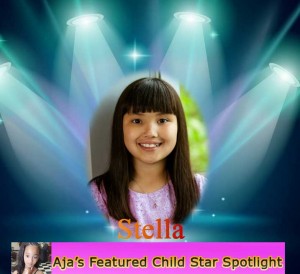 Stella Smith was born July 5, 2003 in Karaganda, Kazakhstan and at 9 Month old became a US Citizen.  Since she was 4 years old she wanted to know what she needed to do so she could be on TV.  When she was 8 her parents let her sign with a talent agency and start pursuing her dream.
She is currently working with J Pervis Talent Agency.
Stella has been nationwide commercials for Toys 'R' Us, How to Train Your Dragon and can be seen in the upcoming movies, South for the Winter and Dekuri.
You can Reach Stella at her Website here
Do you want to be featured on Aja's website?  Submit to be a part of Aja's Spotlight here